Brief Overview
Herbert W. Armstrong and the Worldwide Church of God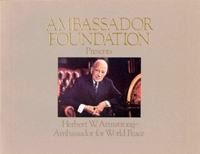 Herbert W. Armstrong was Pastor General of the Worldwide Church of God. The Worldwide Church of God had it's beginnings in the Radio Church of God which was started by Armstrong in the early 1930's. The main purpose of the Church was to both preach the "Good News of the coming Kingdom/Government of God" and to teach it's members God's Word, the Holy Bible.

The real difference between Armstrong and the other thousands of preachers and churches that claim to teach from the Bible... is that he actually taught from the Bible, they in large do not! Strange but true. This made Armstrong's teachings unique from any of the time, he put a strong emphasis on the need to believe and obey the writings of the whole Bible, both New and Old Testament.

After Armstrong died in 1986, the Worldwide Church of God slowly abandoned all the important teaching of Armstrong. A decade later the Church was teaching very different doctrines as to when Armstrong was alive – it was an apostasy. This led thousands to leave and form splinter churches; today the largest of these being United Church of God, Church of God a Worldwide Association, Living Church of God and Philadelphia Church of God. The organization that remained after so many left is no longer called the Worldwide Church of God, but Grace Communion International. They no longer teach God's Word the Bible as Armstrong taught.

Herbert W. Armstrong was God's Apostle. He had private meetings with more Kings, Presidents and Heads of Government than any man alive in his time or possibly ever. The magazine he published through the Church; "The Plain Truth" had in the mid-1980s a monthly circulation of over 8 million copies in seven languages. A higher circulation than Time, Newsweek or any other News magazine, and it was completely free. The thing that set Armstrong apart from other preachers of his day is that he explained the Bible so it could be easily understood.